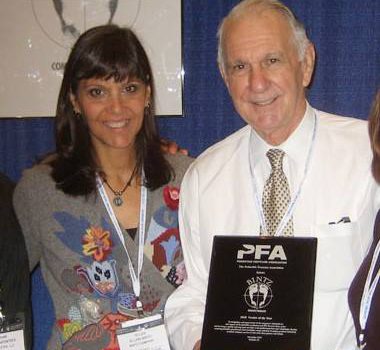 Ellen Bintz & Verne Bintz receiving Vendor of the Year Award
at the 2010 Pedorthic Footcare Meeting.
The Bintz Story
1976
While representing orthopedic and children's shoe lines for several years, Verne saw the need for quality fitting aids in the shoe industry. He and his son, Dave, decided to make a trip from Wheaton, Illinois to California to talk to an owner of a rubber molding company in order to begin producing handmade leather covered scaphoid pads.
The Verne Bintz Company was born when Verne began producing scaphoid pads in his garage and basement after returning from being on the road each week. His daughter, Ellen, who would join the company in 2000, remembers trimming the rubber for the pads, clicking and skiving and embossing the leather with gold foil when she was in high school. The VBCO line quickly grew to include leather covered heel levelers. Business was booming (and labor was cheap).
1981
Because Verne was always dedicated to providing a superior product and great customer service, the business grew and grew so Verne was able to rent his first office space in Wheaton, Illinois.
1991
Verne is known to be top in his field and that is why Les Appel, founder of Powerstep, asked Verne to meet to get his opinion about a few insoles he had created. Ellen remembers Les bringing his samples to the amusement park, Kings Island in Ohio to show her dad while they were there enjoying the park. Verne has always been supportive of new and inventive ideas in the foot industry. 
2010
After being in a few different locations around town, we finally found our own spot of heaven. We have grown to distribute products from over 20 vendors. Our family atmosphere and commitment to great customer service (doing business "the old fashioned way" as Verne likes to say) and carrying the best quality products in the industry remains our priority. We love our customers!  
2014
The Verne Bintz Company receives Vendor of the Year award from the Pedorthic Foot Care Association! We were even more proud when the award was renamed the VERNE BINTZ Vendor of the Year award in 2014! A legend in his own time.